Who are we?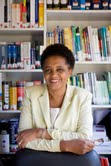 I am a Librarian and after working in education and university libraries in Africa and Europe, I am branching off to the Book trade sector, specifically for Libraries: Academic, Corporate and Public Libraries in all geographical regions. The Library sector, I believe, needs the best of attention as it is a way to reach many people, through sharing resources. We also sell to individuals, schools and other establishments.
Our team also aims to serve Corporations, Libraries, NGOs and Private Individuals globally, regardless of their location.

Browse and Connect to Subjects
Our Bookstore is a database of Global Books, Print and eBooks, from all Publishers and is continuously growing. It is categorized in a way that is easy to browse and connect to major or minor disciplines within a subject. You can also filter search by format (eBooks only)
Susan Eklöw: B.Ed.; M.A.; MBA; Member SLA, Member Swedish Library Association (Svensk Bibliotekförening).

Tool for Identifying, Selecting and Purchasing:
The database is quite an interesting tool for identifying, selecting and purchasing your books. It should be useful to the Librarians (for Academic and Public institutions) Professors, Lecturers, Teachers and other Educationists. Children, young adults, biographies, comics and graphic novels, are all covered. No sector is left out.
Private individuals should also find these features of the database very interesting too. The Bookstore gives you a real opportunity to window-shop.
Print and eBooks: We carry Print and eBooks. eBooks link will be sent to your email address after order processing.
The Database provides:
a) Bibliographic details for the book -- Author, Title, Publisher, ISBN, etc -- which are important in creating Order Lists.
b) Provides the Cover image of the book -- (as available)
c) Provides the Table of contents -- (as available)
d) Provides LC and Dewey Classification -- Important to cataloguers.
e) Provides LC format Subject Headings -- Great for cataloguing Librarians.
f) Gives a short description of the book (as available)
g) Pricing -- (GBP, USD & Euro) -- to suit your needs. We are mentioning just some of the advantages...
Purchases:
We deliver the world over, though sometimes it is difficult to meet deadlines.
Pls Note: We give you a personal service.

Publishers prices and freight rates are a challenge in International online business, they are not constant. So Book Prices may Change from quotation in your Basket but we shall inform you.
Contact sales@oakleafbooks.se for Bulk Orders

. We shall quote and offer Favourable Discounts and Calculte Freight Rates. Libraries will receive a 10% discount for books sourced from Traditionally Renowed Publishers.

E-Books: You receive the Link 4 hours after Purchase and receive a discount

.
Oakleaf Books accepts print book returns within 14 days after receipt. Here are return addresses for your location, as well as all necesary information regarding our returns policy:
ALL RETURNS: US, Canada, Europe, Middle East, Africa, Asia, & Australia returns address:
Oakleaf Books & Library Consultancy
OPERATIONS OFFICE
2 Rue Gustave Deloye
06000, NICE, FRANCE