Who are we?
Vision for creating Oakleafbooks.se
I was just so tired about the kind of books people reached! The books were all of market driven content. People could not reach books that had been published after real research or books that would drive knowledge and debate. How to books were all around. People were not able to direct a subject search which would enable them to do intended deep research into books covering that particular aspect of knowledge, e.g. being able to direct MY Search for JUST books on culture, on music, art, any profession, children's books of different categories, etc! I wanted to develop a search that went much deeper than the keyword, or Title Search, and it seems I succeeded.
The general public would only decide on books to purchase from browsing bookstores, there was no platform to inform them, here are books you could read and they are arranged as if you were in a Library. As people go to Libraries for research, I created a Library. With our directed search, people would be able to approach bookstores or libraries and say, this is what I need to read. So we were filling a neglected space and providing it to the world.
If we omit leads from bibliographies, many academicians also need a tool where they can easily find valuable books on their areas of research. They will be able to introduce new books to their curricula, find new books or other books other than those they have been using over time! With an easy focused search they would be motivated to do directed searches which would save time and bring useful results.
Creating a Solution
Well, if I needed to drive the change in book identification, I would have to design the solution that would help people reach easily that valuable content in the global-published-book world. So I decided to create a product that would enhance everybody's attention while also allowing them space to relax as they browsed content.
Oakleafbooks brings the wealth of knowledge of published books onto one platform and encourages you to search. This is an intuitive search, that drives you; and you become excited as you browse and find more and more content which you would never have ever imagined existed or that there are so many books in your particular subject. You want to learn about art, sheet music, jazz, rock n roll, makeup, cosmetics, hair and beauty, how to create a perfect cut (hair dressing), you will find books, you will also find books for down hard science, e.g., cosmology: "The Universe: from 13. 8 Billion Years Ago to the Infinite Future" to Medicine: Foot and Ankle Motion Analysis.
We open the book for you to let you enjoy it before you consider ordering it. Our aim is to ensure you make an informed decision prior to the order or recommendation. To achieve this we provide you with a synopsis of the book, and open other leads that will drive you to similar subjects, sometimes we provide the table of contents… We let your drive, curiosity and motivation lead on the search. Our database is easy to navigate, the search is intuitive, you can search forever! And the result is that you reach immense knowledge of what has been published, in that your subject easily. Our indexing has taken the behavioural aspect of the human brain, to encourage and slowly edge you on to find more and enjoy that instinctive search.
We are a research platform into the book world, not a shop, where you go quickly to buy and run off. Rather, we are a knowledge resource of the book-publishing-world, laid out for you to appreciate, and that is why you continue browsing. From one find, we will link you to other links that are similar to the topic you study, and where you might find more relevant books. You then move on to other subjects. Our platform helps every person who visits us to find that book, they wish to read.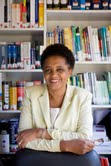 We provide a basket so you can save what you wish to review further or what you think is a must buy. You can then easily communicate your selection of books (those in your basket) by sending your recommendation(s) for adding to Library stock to your Librarian. These are books that will benefit other readers (and yourself) if added to the library.
In this seamless communication platform we create the library commons for all to benefit. To Librarians, we drive Patron-Driven-Acquisitions.
Contact us at sales@oakleafbooks.se to get full access to the database.
Susan Eklöw: B.Ed.; M.A.; MBA; Member SLA, Member Swedish Library Association (Svensk Bibliotekförening).
Librarian Strategist (Focus: Academic, Research and Special Libraries)
Experience: Extensive experience in Library Management & Operations,
Teaching Database Research and Masterful in Evaluation of Online Databases
Founder: Oakleaf Books & Library Consultancy (oblc)
Snickaregardsv. 12
683 93 RADA, Hagfors, SWEDEN
Phone: +46 790 191 556
Contact: sales@oakleafbooks.se